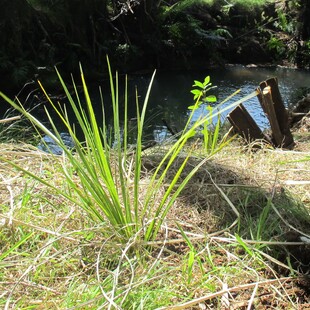 Water quality affects everyone …
The very first plants we ever grew were destined for riparian planting. We hoped to improve the water quality in some of the streams in this area. Most river banks that need restoration are muddy and unstable, and where stock have access to the water the problem is worse.
Native plants are part of the solution. They hold the banks with their roots, filter the runoff water and retain the sediments. This helps create new and clean habitats, bringing insects, fish and birds back around the stream. Farmers who commit to this restoration work, fence the streams and native plants off to protect them from stock damage.
Most of our work in riparian and wetland planting today is around supplying plants for local projects. There are many streams in our area where riparian work is being done and more and more local wetlands are being restored. We are rapidly increasing the number of plants that we grow that are suitable for these environments.
There is a large wetland at Otama that we are beginning to supply plants for, and our Backdrop Trust Project also has a fantastic wetland in it, that we are looking forward to protecting.
Kim
Project Manager

New Zealand's ecosystems are truly unique, they evolved over millions of years in isolation from the outside world. Since the arrival of man, so much has changed. I don't think many people realise just how special the New Zealand environment is, and just how much work is required to protect it for future generations.
Geoff
Funding and Finance

If we enjoy our environment we will value it. If we value it we will care for it. If we care for it, it will reward us. Our environment is our life!

Micayla (Mac)
Volunteer Organiser

Have you ever just listened to the sounds of the forest, they are calling us, and they need our help!
Here at the Mercury Bay Environmental Trust we are taking one step at a time to restore our ecosystems, but we can't do this alone, we need your help!
GET IN TOUCH

Mercury Bay Environmental Trust
P. +64 27 282 3369
E. mbenvironmentaltrust@gmail.com
Postal Address
PO Box 5
Whitianga 3510
New Zealand