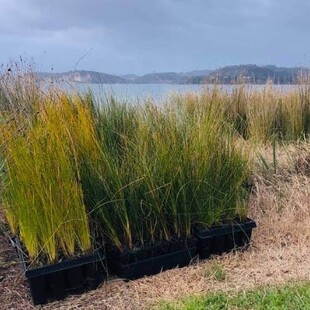 Restoring our sand dunes is essential …
Coastal erosion has been occuring on the Eastern Coromandel beaches for some time. Our coastal margins form a very dynamic environment, where sand moves and dunes grow and recede with time. While it is quite a natural thing to have happen, we often see major damage when there is a storm. With rising sea levels meaning even more erosion in future, growing sand dune plants for restoration projects has become a big part of MBET's operations.
Native dune plants capture, and help hold the sand in place, so that the dunes are able to restore themselves over time once the plants are established.
We support sand dune restoration on a number of east coast beaches working along side TCDC and Coastcare, helping them run their planting days and providing them with plants grown sourced locally.
We also run a local Beachcare group here in Whitianga. This ia a group of local volunteers who meet every week to undertake weeding, planting and general dune maintenance along Buffalo Beach.
Kim
Project Manager

New Zealand's ecosystems are truly unique, they evolved over millions of years in isolation from the outside world. Since the arrival of man, so much has changed. I don't think many people realise just how special the New Zealand environment is, and just how much work is required to protect it for future generations.
Geoff
Funding and Finance

If we enjoy our environment we will value it. If we value it we will care for it. If we care for it, it will reward us. Our environment is our life!

Georgia
Volunteer Organiser

I'm a 25 year old Kūaotunu local. Always out in nature, I actively try my best to protect the environment I live in. I have an eagerness to learn and a love for spending time outside, which has led me to study Environmental Management. In my free time I enjoy yoga, hiking, reading, travelling and soaking up the sunshine.
GET IN TOUCH

Mercury Bay Environmental Trust
P. +64 27 282 3369
E. mbenvironmentaltrust@gmail.com
Postal Address
PO Box 5
Whitianga 3510
New Zealand